Local Indie Rock Band Old Joy Releases First Album, 'Tent Silhouettes'
---
Old Joy is one of New Brunswick's newest indie rock bands to hit the scene, and it's hitting the ground running with its latest September release, "Tent Silhouettes." A catharsis of previously closeted emotion, the album is the culmination of the frenzied but harmonious songwriting of lead guitarists/vocalists, Ruby Ryan and Phillip Iglesias.
Ryan, a Mason Gross School of the Arts junior, and Iglesias, a School of Arts and Sciences junior, first met supporting mutual friends at a show and hit it off immediately. Yet the band did not form until after weeks of back-and-forth Instagram DMs. But this period was critical for solidifying the strong emotional bond that laid the groundwork for the synchronous songwriting that would ensue.
Despite this, the duo was nearly a Craigslist-style missed connection. Ryan, a life-long instrumentalist, came from a classically-trained musical background. She considered joining a conservatory program for bassoon in Boston, almost missing her chance to meet Iglesias. Instead, she chose to go to Rutgers, met Iglesias and embarked on this musical journey.
Iglesias, also a life-long instrumentalist, comes from a few casual high school garage bands that never took off. Drawn away from classical piano by middle school dreams of Green Day-style rock stardom, he picked up guitar to jam with friends, but never quite vibrated on the same wavelength as he would with his future bandmates.
Once the pair got to jamming, collaboration came naturally and fast. One track, "Chicken bone," was apparently written in just 20 minutes. The band's writing pace was never held back by lack of creative material, but rather the limitations of a student schedule. And whereas Ryan writes music to her lyrics, Iglesias writes lyrics to his music, and thus, the magic is somewhere in the middle.
Layering onto the skeletons of Ryan and Iglesias's songs are the musical stylings of bassist Natalie Kim, a School of Engineering sophomore, and Class of 2018 alumna, Lex Douras.
This amalgamation of kindred souls led to the album that is "Tent Silhouettes." Filled with certified bangers, like "Koi Pond" from Old Joy's single, its musical influences become clear. Frenetic math rock-inspired guitar noodling à la CHON (an Iglesias favorite) is especially featured on album opener, "Julianna." While the more subdued track, "Purple/Blue," draws influence from female-fronted indie singer/songwriters like Soccer Mommy and Snail Mail.
Both songwriters brought in lyrical and musical fodder for their first jam session. But Iglesias and Ryan set out to release this particular set of songs with the intention of anchoring the album around one theme: reflection. The emotional and lyrical content of "Tent Silhouettes" reveal the songwriters' honest emotions of relationships past that maybe could not be fully expressed at the time.
The album has a slightly unpolished sound reminiscent of other New Brunswick-based bands' records, reflecting the actual production of the album. With the band's days dedicated to school and work, nights were spent in the house of its producer, Evan Rudenjak, of Coolman Music Productions, where the band recorded feverishly, tracking one song per night.
Iglesias and Ryan's lively melodies disguise a serious contemplation of the past, which can get dark. Several songs reveal a coming-of-age tale with battles that many can relate to, from growing pains to falling in love to seasonal depression to sexuality to chicken bones. And yet, playfully displayed on the "Tent Silhouettes" album cover are childhood photos of the two on slides at the playground, a visual reminder of the long road it took to get to this musically productive point for them.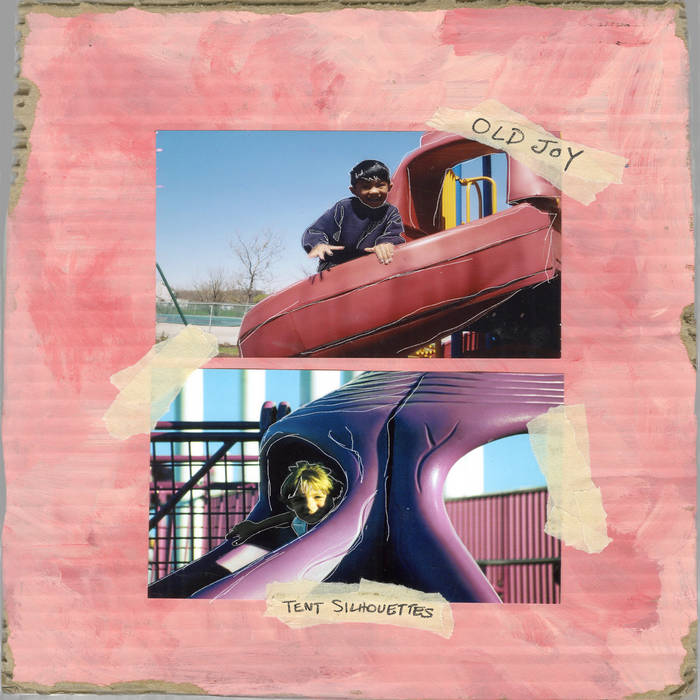 Despite their heavy emotional weight, these songs are packaged into a vibrant indie rock album with pop sensibilities that are sure to yank you right into the mosh pit at the band's next show — which is easy to say from cozy New Brunswick, but Bostonians will be in for a treat when Old Joy makes their way up north this winter, opening for ex-drummer, Gabriel Carvalho's band, Flamingo Club.
The young band has big dreams of dropping everything to tour the country. The ultimate dream is to be be featured on Audiotree Live, a Chicago-based artist discovery platform graced by the performances of talents like Japanese Breakfast, Foxing, Vasudeva and Julien Baker.
If you are craving for new content already after playing the short 25-minute release on repeat all night, you probably will not have to wait long. The foursome is a tour-de-force, churning out unreleased tracks in spite of busy school and work schedules among its members. Balancing the musical voices of four people may seem like a tough feat, but all four vibe so well, harmonizing their creativity instead of figurative and literal dissonance.
You have three chances to hear this New Brunswick gem live in the next week — Friday night in New Brunswick's basement scene, Sunday night at Scarlet Pub and Thursday Oct. 25 at the Livingston Student Center for BEATFest, sponsored by The Daily Targum and the Rutgers University Seeing Eye Puppy Raising Club.
Tickets for BEATFest can be purchased here:
Livingston Student Center, Livingston Hall
Doors at 7 p.m. / Show at 7:30 p.m.
Lineup:
Chris Farren // chrisfarren.bandcamp.com
The Vaughns // thevaughns.bandcamp.com
steve. // steve65.bandcamp.com